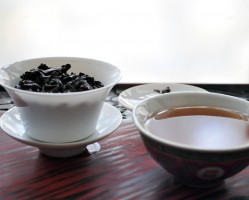 The tea is made with Japanese recipe to increase the content of GABA – an amino acid that occurs naturally in the human body. GABA is the main inhibitory neurotransmitter found in the nervous system and also in the retina.
From the tea's page at store site:
Taiwanese GABA tea is an all natural product. It is made from high-grade whole-leaf that is naturally rich in glutamic acid – the precursor to GABA. The processing involves exposing the fresh tea leaves to nitrogen gas under controlled conditions. GABA tea is produced according to standards set by the Japanese government, and meets or exceeds the Japanese standard of 150 mg of GABA per 100 grams of tea.
Sample pack is enough for a big 1 brew. But it survives more than 6 steeps. Dry leaves have a typical rolled dark oolong appearance.
I rinsed the tea fast in gaiwan. Hmm, My advise for the future to rinse it even 2 times. You'll need at least 100ml gaiwan for the sample package quantity of leaves, they'll open and fill it.
First steep after rinse has slightly chemical, I would say nitrogen notes in flavor. Not too strong, if you are not familiar with nitrogen smell, like welding works or something can produce.
The taste is good, lively caramel, slightly sour, ginger. A light touch of orange and cinnamon undertones maybe.
Second steep and latest produce more of oolong type liquer with light roasted pine wood and caramel notes. Soaked leaves have a smell of horse chestnut. Leaves are expanding more and more.
Later infusions have a good woody undertones, more lively sour caramel. Overstepped tea is almost not astringent, but instead more sour. Nice.
The tea wasn't too interesting to me, just wanted to try it, because of its health benefits, maybe should try also some Japanese variety. Actually I did felt better after some of this, and my morning vision had cleared. My problem is the chemical metal works flavor, probably psychological (I had read about how this tea was made), but can't get rid of it, sorry… Have to read less manuals