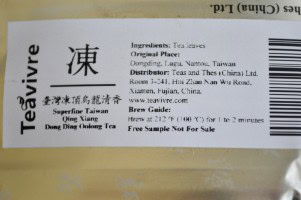 Chinese TeaVivre teashop has a selection of very nice Taiwan oolongs and this tea is one of them, superfine grade. Comes from high mountain Lugu Village in Nantou County, Taiwan . "Qing Xiang" means that the tea is not roasted.
I'd use the original gaiwan from TeaVivre as a steeping vessel to thank them for the generous gift.
Dry leaves: very tight folded into small pearls and make "dong-ding" sound when tossed. Dark olive green color with some light brown remains of leaf stalks. Light fragrance of flowery green when dry. The tea was picked at 1st of August, 2013.
Quick rinse and dry leaves start to release subtle milky aroma.
1st steep: 95°C for 1 min. 10 sec. (leaves must be awakened after almost a year of storage) – still had to give it more time at first steep. Yellow-green color of liquor. Subtle flavor, but very pleasant. Flowery, buttery, Gardenia notes, sweet, but yet moderate taste for a heavy smoker like me 👿
2nd steep at 93°C for 1min. (leaves have been unfolded about 30-40%): Now it tastes good! A very buttery milk caramel taste with flowery base.
3rd steep at 90°C for 1 min.produces slightly greener liquid, and more grass undertones. Very nice.
4th steep at 95°C for 1 min.: Leaves by now are opening and showing their completeness and beauty.  and we can observe their quality leaf by leaf. Excellent tea liquor with more of grassy notes and yet a lot of sweetness.
5th steep: 90°C for 2 minutes.: greener liquid, previously hidden sourness is more distinct now. Very nice for hot summer day here.
It is good to drink at least 7-8 steeps gradually making time longer and temperature higher.
Sourness is the under-base of this tea taste, but it is just underlines the sweetness and never shows itself until latest steeps. It protects this tea from being vulgarly sweet. This tea reminds me of a white wine best qualities.
This tea is very good, subtle and pleasant. Great for hot weather. For slightly more roasted and more of nutty flavor Taiwanese oolong maybe take Superfine Taiwan Ali Shan, which is good for me as an evening tea. Though I'd prefer TeaVivre's one of a kind Taiwan DaYuLing.