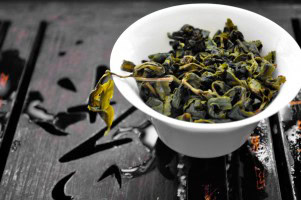 Shi Zuo Oolong (2012) from TeaFromTaiwan shop:
Shi Zuo oolong tea (wu long tea) is grown in the Shi Zuo (Stone Table) area of Alishan (Mount Ali). At an altitude of 1300 meters, Shi Zuo has a cool, moist climate that is ideal for growing tea.

Shi Zuo oolong tea is hand picked and hand processed in the traditional manner of Taiwanese High Mountain oolongs. The processing results in ball-shaped tea pellets which consist of two or three leaves and a bud.
Fast rinse with a good green smell. Rolled dry leaves starting to get wet.
Light green, very beautiful color first infusion for 10 seconds on 96°C, smell of peas and peanuts. Taste of iron, baked pear, very refined, sweet and not astringent. Leaves are started to unroll.
Second steep with 100°C water, for 15 sec.Fuller taste, sweet + TeaGuanYin-like flavor, pea undertones with sour aftertaste. Strong taste statement, but delicate feeling. Indeed very good tea. Leaves are opening more.
Third: 30 sec. at 100°C. Green infusion. Sour elegant Tea Guan Yin (TGY) taste. Leaves are filling my small gaiwan to the top. Pea undertones are fading.
Fourth: 85°C for 1min. Infusion is more yellow by now. Sweet and sour. Less full bodied. Still taste of high quality TGY.
Fifth: back to 100°C – yellowish color, leaves are open and coming out of gaiwan. 2 min. TGY aroma, sweet and bitter sour TGY taste. Not as elegant as previous steeps. Leaves are almost fully open by now. They are undamaged and make you day dreaming about high mountains on remote island tea plantation, hmm… 💡
Sixth: 3 min. at 100°C, leaves are fully open. They are intact and small. Very sour and nice taste. TGY faded out. Interesting.
I liked the most my first infusion with complex pea taste. Also later Tie Guan Yin taste was great – sour and elegant. But first 2 steeps were most interesting. Maybe should try lower temperatures. This tea is very good, no questions.