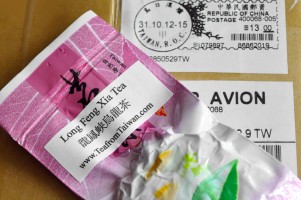 Long Feng Xia Oolong is beautifully packed into a small vacuum sachet enough for just 1 middle sized brew.
Long Feng Xia oolong tea is rated as "ding ji" (world best) and comes from the Shan Ling Xi district. It is grown at an elevation of about 1750 meters in the Long Feng canyon of Shan Ling Xi Mountain. The area is enshrouded with fog throughout the day. This spring tea is produced from the bud and two leaves of the tea plant which are hand picked and hand processed with a fermentation level of about 35%.
Dry tea is in the form of small rolled pearls, dark oily green with light green colored veins. It has a moderate flowery grassy scent, when dry.
I'll do in gaiwan and will start from 95°C. Rinse smells sour and flowery, cool. Leaves come to life a bit.
1st steep at 90°C for 1min.: Liquor is greenish and clear, leaves got unrolled for about 25%. Smell is wonderfull, grassy flowery and sour, with some creamy notes.taste is very elegant, full body, sweat with sourness pleasant tone. Reminds a bit TGY flavor, but deeper sweeter and more elegant than regular.
2nd steep at 95°C for 1min.: Leaves are opened in about 60%, show great shape. Small and healthy. Liquor smells creamy orchid. Taste is floral and deep. Shows less of frivolous sourness now. Posh.
3rd steep at 100°C for 1min.: My gaiwan runs out of space. Leaves are unrolling up to 80%. Had to use a bigger one. Aroma is declining, more creamy now, less flowery, taste shows a lot of sourness, but has a creamy lingering in the back of my throat. Not so outstandingly elegant as first 2 steeps.
4th steep at 95°C for 4.5 min.: caramel flowery aroma. Leaves are 90% open. "Thoughtful" deep flavour, creamy orchid caramel with sourness undertone. But less lightweight.
5th steep at 100°C for 5 min.: Leaves are fully open now. Creamy caramel with orchid flavor. Still same green color. It's probably capable of few more steeps, but first 2-3 were most exciting.
I liked this tea very much, It's really hi-grade. Leaves and taste are very beautiful. Advised. Had to use a bigger vessel to give some space to unrolling leaves.