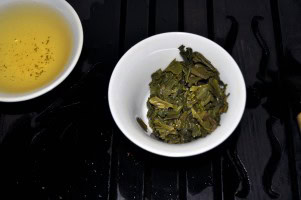 Lin Yun is a Chinese green tea. I bought this tea because of its wonderful smell came from the opened big canister at the shop. The tea is inexpensive, but its dry leaves smell was fantastic.

While steeped in gaiwan it releases even more of that great lively green fragrance. When tasted, it's a bit similar to Japanese senchas, or even to kamairicha. It's flowery and sour. But steep it at 70°C, or it'll become astringent with nutty iodine notes. I steeped very fast, about 30-40 seconds at first. It survives about 3-4 steeps without loosing it's taste.
Great with sweets or after some meal and it has a moderate amount of caffeine. This tea is nice and fresh. It is probably came from Lin Yun County in Guang Xi Province. Palais have no notice of it, but should be so judging  by its name.